The Knoxville real estate market may be one of the country's hottest markets. The city's proximity to Nashville and relatively affordable home prices are responsible for an influx of demand that few other cities can compete with. Subsequently, investors have enjoyed an incredible run for the better part of a decade. There are very few markets with more promising fundamentals than Knoxville, even in the midst of the Coronavirus pandemic.
Knoxville Real Estate Market 2022 Overview
Median Home Value: $294,832

1-Year Appreciation Rate: +27.8%

Median Home Value (1-Year Forecast): +23.1%

Median List Price: $339,297 (+12.0% year over year)

Weeks Of Supply: 8.7 (-3.7 year over year)

New Listings: 192.3 (-26.0% year over year)

Active Listings: 1,816 (-36.5% year over year)

Homes Sold: 218.4 (-7.1% year over year)

Median Days On Market: 46 (-17 year over year)

Median Rent: $1,283 (+26.0% year over year)

Price-To-Rent Ratio: 19.14

Unemployment Rate: 2.9% (latest estimate by the Bureau Of Labor Statistics)

Population: 190,740 (latest estimate by the U.S. Census Bureau)

Median Household Income: $40,341 (latest estimate by the U.S. Census Bureau)
---
[ Thinking about investing in real estate?
Register to attend a FREE online real estate class
and learn how to get started investing in real estate. ]
---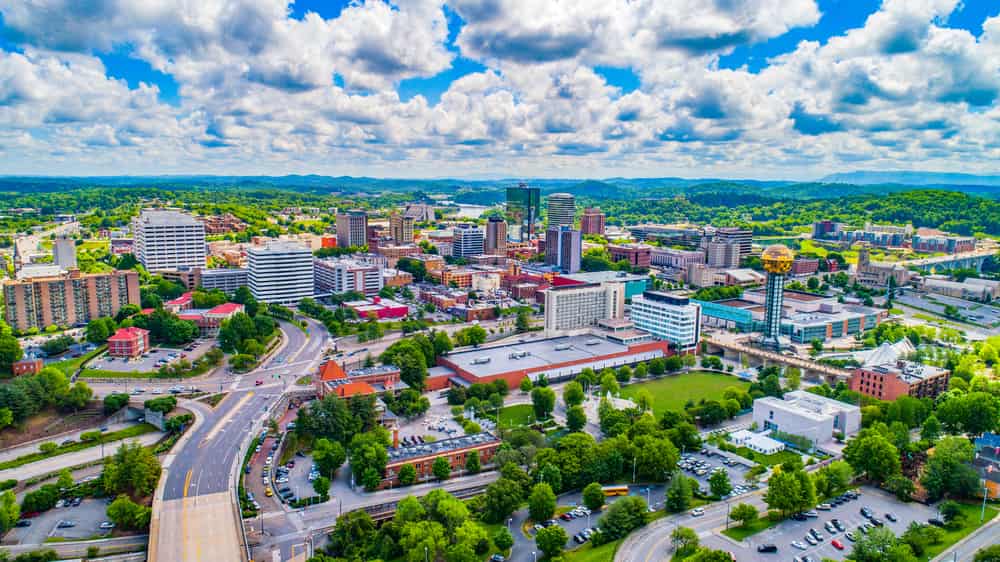 Knoxville Real Estate Market Trends In 2022
The Knoxville housing market has managed to outpace national averages in almost every positive way possible. However, in light of the Coronavirus, we will want to keep tabs on which trends look secular and which are going away sooner rather than later. Here is a look at the Knoxville real estate market trends which are most likely going to have a lasting impact:
Improvements In Unemployment Will Increase Demand: At the beginning of the pandemic, unemployment spiked in Knoxville like everywhere else. However, as more Americans got vaccinated, and Knoxville continues to lift restrictions, unemployment is improving. At about 2.9%, Knoxville's unemployment rate is about one-quarter of where it was at its previous peak. If trends continue as expected, more buyers may enter the market and increase competition further. As a result, there appears to be a growing correlation between the strengthening economy and higher appreciation rates.

New Builds Will Struggle To Help: Building permits continue to leave a lot to be desired. Consequently, inventory levels will remain tight for the foreseeable future. As a result, there's a good chance appreciation rates will remain in the double digits until new listings can release pressure. At the moment, forecasts are calling for a 23.1% increase in home values over the next 12 months.

Rentals Will Receive An Influx Of Demand: More people will be forced to rent without sufficient inventory levels. In fact, Knoxville's 19.14 price-to-rent ratio all but ensures the rental market will receive added attention. Home affordability will continue to increase competition over the little inventory available, forcing more people to remain a part of the renter pool (even if they can afford to buy). As a result, rents are expected to increase in the coming year.
Knoxville Foreclosures 2022
According to ATTOM Data Solutions' January 2022 U.S. Foreclosure Market Report, a total of 23,204 U.S. properties received a foreclosure filing (default notices, scheduled auctions or bank repossessions) in the first month of the year. According to the latest research, nationwide foreclosures are up 29.0% from the previous month and up 139.0% year over year.
"The increased level of foreclosure activity in January wasn't a surprise," said Rick Sharga, executive vice president of RealtyTrac, an ATTOM company. "Foreclosures typically slow down during the holidays in November and December and pick back up after the first of the year. This year, the increases were probably a little more dramatic than usual since foreclosure restrictions placed on mortgage servicers by the CFPB expired at the end of December."
The Knoxville real estate market is no exception to rising foreclosure rates. The pandemic misplaced too many families' financials to assume otherwise. However, Knoxville's unemployment rate has fared much better than the national average and should help homeowners across the city. Additionally, Tennessee is expected to receive more financial help to support those who fell behind on payments. The financial aid will help curb the foreclosure rate a bit, and landlords can take solace in the fact that more of their tenants will be able to pay on time.
---
[ Thinking about investing in real estate?
Register to attend a FREE online real estate class
and learn how to get started investing in real estate. ]
---
Knoxville Median Home Prices 2022
The median home value in Knoxville is about $294,832, which is the result of historical appreciation. Over the course of the pandemic, real estate in Knoxville continued to increase in value. So far in 2022, the median home value in Knoxville continues to test new highs each month. Today's historical prices directly result from the new marketplace created in the wake of the pandemic. In particular, the city currently has just over two months of inventory on the books, which is nowhere near enough listings to keep up with today's demand.
Most balanced markets want to have about six months of inventory, which means Knoxville has a lot of ground to make up. The lack of inventory has led to steady competition, and homeowners have increased prices accordingly. In the last year alone, the median home value in Knoxville has increased 27.8%. To put things into perspective, median home value in the United States has increased 19.9% over the last year.
There's nothing to suggest Knoxville won't continue its torrid rate of appreciation moving forward. Some analysts predict real estate in Knoxville could appreciate by as much as 23.1% over the next 12 months. The increase will most likely be driven by a distinct lack of inventory and improvements in employment indicators. As the economy continues to open up and more people are working, low interest rates will continue to drive up demand. However, building permits are nowhere near where they are needed to be. Since builders sat on the sidelines for the better part of a year, new builds are still a ways out. Until new listings can be brought to the market, demand will continue to drive prices higher in the Knoxville real estate market.
Should You Invest In The Knoxville Real Estate Market?
There is no doubt about it: The pandemic has altered how real estate entrepreneurs think on a national level. At the beginning of last year, in fact, everything we thought we knew about investing had been uprooted in a matter of weeks. Fear and uncertainty caused a bottleneck in the U.S. housing sector, as buyers refused to tour homes and sellers pulled listings off the market. Nonetheless, investors rallied and made the best of an "unexpected" situation. Home sellers across the country, in particular, have enjoyed a lucrative year.
According to Attom Data Solutions' latest Home Sales Report, "home sellers nationwide realized a profit of $94,092 on the typical sale in 2021, up 45 percent from $64,931 in 2020 and up 71 percent from $55,000 two years ago."
Per the report, "the $94,092 profit on the median-priced home sale in 2021 represented a 45.3 percent return on investment compared to the original purchase price, up from 33.6 percent last year and from 30.6 percent in 2019. The latest profit margin also stood out as the largest since at least 2008."
As it turns out, the Knoxville real estate market helped skew national home sales numbers higher. Few cities, for that matter, saw gains on the level of Knoxville, which led the country in profit margins as recently as last year.
Investors fortunate enough to benefit from recent appreciation rates in Knoxville have found the last few years to be quite lucrative. That said, appreciation is a double-edged sword: As prices continue to march higher, profit margins on future flips are in jeopardy. Therefore, a large portion of the Knoxville real estate investing community has turned to long-term exit strategies. In particular, the new market created in the wake of the pandemic appears to be very conducive to building rental portfolios.
For starters, interest rates on traditional loans are about as attractive as they will ever be. The Fed's decision to lower interest rates to spur buying worked well and those seeking a traditional mortgage can secure an interest rate somewhere in the neighborhood of 3.76% on a 30-year fixed mortgage, according to Freddie Mac. At that rate, real estate investors in Knoxville can secure funding for a deal while simultaneously offsetting today's higher prices and increasing monthly cash flow from properties placed in operation. Now, perhaps more than ever, is one of the best times to pay down a mortgage with someone else's money, and Knoxville real estate investors are well aware of the opportunity at hand.
The Knoxville real estate market is unique in that there still appears to be room to make money on flips and rehabs. However, it's only a matter of time until profit margins catch up with the rest of the country. Local investors should strongly consider switching to long-term exit strategies to stay ahead of the curve. That is not to say rehab opportunities won't persist; only that now is a great time to consider building a rental portfolio.
Summary
Real estate in Knoxville is amongst the most coveted assets in the country. Local real estate investors have found the Knoxville investing environment incredibly welcoming thanks to a unique combination of relative affordability and increasing demand. For that matter, few cities have rewarded investors with a higher return on investment in recent history. What's more, the pandemic may have made Knoxville a better place to invest in real estate. The temporary disruption and resulting market indicators have never looked more attractive to investors. As a result, the Knoxville housing market belongs in the conversation with today's best places to invest.
Have you thought about investing in the Knoxville real estate market? If so, what are you waiting for?
---
Ready to start taking advantage of the current opportunities in the real estate market?
Click the banner below to take a 90-minute online training class and get started learning how to invest in today's real estate market!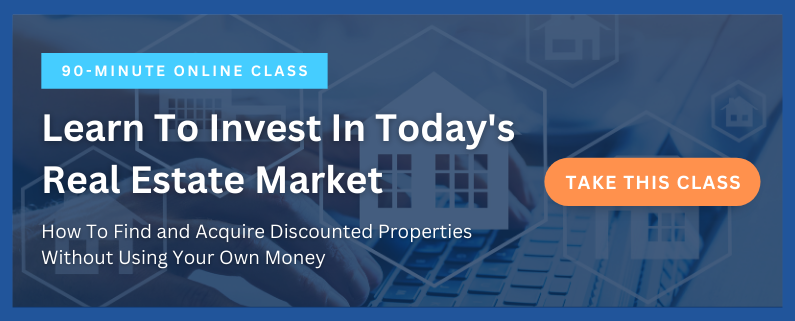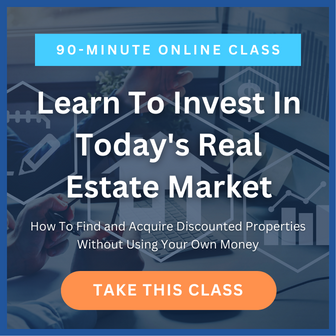 Sources
https://www.zillow.com/knoxville-tn/home-values/
https://www.zillow.com/home-values/
https://www.zillow.com/research/data/
https://www.redfin.com/news/data-center/
https://www.freddiemac.com/pmms/pmms30
https://www.census.gov/quickfacts/knoxvillecitytennessee
https://www.bls.gov/regions/southeast/tn_knoxville_msa.htm
https://www.apartmentlist.com/research/category/data-rent-estimates
https://www.attomdata.com/news/market-trends/foreclosures/attom-january-2022-u-s-foreclosure-market-report/
https://www.attomdata.com/news/market-trends/home-sales-prices/attom-year-end-2021-u-s-home-sales-report/
*The information contained herein was pulled from third party sites. Although this information was found from sources believed to be reliable, FortuneBuilders Inc. makes no representations, warranties, or guarantees, either expressed or implied, as to whether the information presented is accurate, reliable, or current. Any reliance on this information is at your own risk. All information presented should be independently verified. FortuneBuilders Inc. assumes no liability for any damages whatsoever, including any direct, indirect, punitive, exemplary, incidental, special, or consequential damages arising out of or in any way connected with your use of the information presented.