Real Estate Investing Courses
Our newest offering, The Ultimate Deal Finder was created to include everything that a new investor would need to ignite their real estate investing education and get started finding deals, fast. Learn about the many systems, tools and resources included in this incredible package: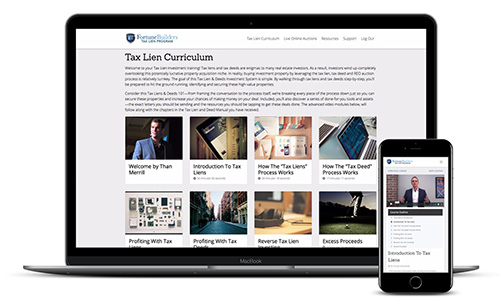 Tax liens and tax deeds are enigmas that have given rise to more questions than answers for the majority of today's real estate investors. As a result, it's not uncommon for investors to overlook their potential, and completely ignore what has developed into a lucrative niche for many.
Smart investors are always looking for great opportunities to learn something new that could help them in their business, whether that is growing their business by putting in better systems or getting to that first deal quicker. Whether you are looking to take it to the next level or find that first deal this education bundle is for you!
We have combined two of our most popular training courses into one. The 1-day virtual training w/ Than and the Tax Lien and Deed investing course. These courses go together so well.
Learning from Than on how to find and analyze a deal and how to exit that deal safely to maximize your profit potential and using Tax Lien & Deed investing as a way to not only find extremely discounted properties but one of the safest ways to invest our profits and earn very high potential returns from 12-25% and it is backed by real estate!
These two training courses are a must-have for any investor looking to build a better future for themselves and their families